Does a completely furnished, midcentury house lie forgotten beneath the soil of a public park in Queens, New York? A handful of optimistic archaeologists aim to find out.
In the wake of the Cuban Missile Crisis, American families became increasingly interested in buying fallout shelters in the event of a nuclear catastrophe. Capitalizing on the craze, home builder Jay Swayze designed a modern upscale home that was completely subterranean, perfect for year-round, radiation-free living. The residence, which Swayze called simply the Underground Home, opened to great media fanfare at New York's famed 1964-65 World's Fair.
The three-bedroom, two-bathroom house included not only complete security and a filtered air supply, but also a swimming pool and selectable daytime/nighttime lighting. You could even change the view by choosing from a variety of "outdoor" murals.
At the fair's close, however, nearly all the fair's exhibits were demolished, as required by their contracts, which included Swayze's Underground Home. Only the well recognized Unisphere and a small number of repurposed buildings were allowed to remain. The rest of the land became Flushing Meadows-Corona Park.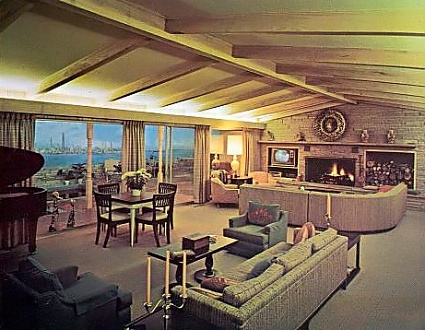 Yet, there are those who believe that Swayze skirted his obligations in an attempt to save demolition costs, and simply covered over the site with an extra layer of dirt. Researchers, most notably a history professor from Florida, seek to find out if the house is still down there. But with records being sketchy, there appears only one way to be sure: dig.
Excavation efforts were targeted for this summer, as indicated by journalist Nicholas Hirsch when he uncovered the story back in 2012. You can read the full account at Narratively.