No one has yet claimed ownership of a giant head found last week floating in the Hudson River, but with the help of my friends at Weird N.J., we may have scooped the major news outlets on its possible origin.
If you aren't familiar with the story, a rowing crew from Marist College in Poughkeepsie, New York, found the 7-foot-tall, foam and fiberglass head damaged and adrift on April 22.
The team's coach considered the enormous, Greek-style noodle a water hazard and enlisted 10 students to haul it to shore. It's since become a school attraction.
Oddly, no one has seemed interested in retrieving the head.
However, publishers Mark Moran and Mark Sceurman were quick to identify it from a 1999 issue of their magazine Weird N.J., in which a reader-submitted article placed the head in Bergen County, New Jersey: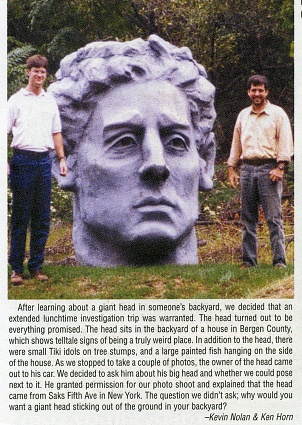 The head sits in the backyard of a house in Bergen County, which shows telltale signs of being a truly weird place. In addition to the head, there were small Tiki idols on tree stumps, and a large painted fish hanging on the side of the house. ... [The owner] explained that the head came from Saks Fifth Ave in New York.

–Kevin Nolan & Ken Horn
(Full article and a comparison pictured below.)
There's been no word on how the head ended up some 50 miles away, and we're still unsure of the previous owner's name. If the Weird New Jersey team and I discover anymore information, we'll be sure to let you know!