There's always plenty of parking at Tullahassee Creek Indian Cemetery. Plus, you can pick up some batteries, rent a TV and renew your insurance policy while you're there. It's all conveniently located at Atwoods Plaza, your one-stop shopping and Native American burial center.
Though only half of them are marked, there are about 40 known graves here, comprising 1/4 acre of the only patch of grass in sight. The rest is unadulterated progress. In every direction lay asphalt and commerce, a free-market paradise held back by a short, white fence.
How did a single swatch of sacred ground become locked in the middle of a parking lot? Well, at one time this land was home to the Creek Indians, who buried their people here between 1883 and 1912. Philanthropist Charles Page purchased the property in 1906, where he then established the town of Sand Springs as a refuge for orphans and widows.
From there, Sand Springs rapidly developed as a center of commerce, becoming the Industrial Capital of the Southwest. And since industry meant jobs, and jobs meant people, consumerism was quick to follow.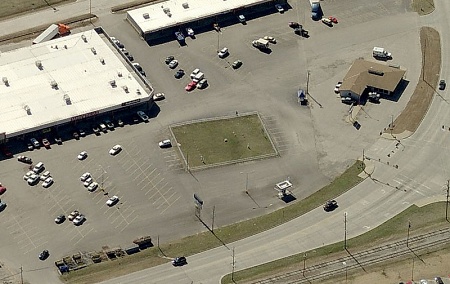 So, sometime in the 1960s, what had previously been grassland and pecan groves was bulldozed and paved to make way for a strip mall. Conditions that were established for ownership of the property, however, stipulated that the cemetery be preserved, so an area about 100 feet square was cordoned off and spared from the cover of blacktop.
Visitors today can get cash at the ATM to the north, drop off their mail to the south, buy some earbuds to the east and stock up on filtered water at a self-serve kiosk to the west (bring your own container). You can also buy a hot dog, get a haircut and hit what is probably the biggest bar in town, just yards away.
When you park, though, just keep in mind that the cemetery wasn't thoroughly surveyed before it was blocked off, so although you're outside the fence, you're still more than likely parking right on top of somebody's great-great-grandpa.