While I was researching the "Cemetery Safari" chapter for my upcoming book Weird Oklahoma, I came across an unusual burial site west of Tulsa that was entirely enclosed within a strip-mall parking lot. Once sacred ground, it's now a conspicuous patch of grass in a sea of asphalt, a quirky spectacle to the shoppers forced to drive around it on their way to Radio Shack.
The handful of graves had become an absurd sight gag that punctuated the often indiscriminate momentum of American progress. And it got me thinking: were there others like it? Surely this wasn't the only time the deceased had stubbornly spoiled the aesthetics of a well-drafted parking lot. I mean, the good spots had already started going to the handicapped; it was only a matter of time before the dead horned in on the action, too.
And you know what? I was right. In fact, I found even more than I expected ...
---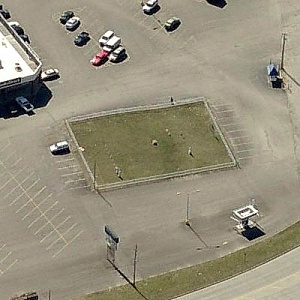 Tullahassee Creek Indian Cemetery – Sand Springs, Oklahoma
Situated right between an ATM and a postal drop box, this Indian cemetery comprises about 1/4 acre of isolated turf in a parking lot outside Tulsa.
It was founded in 1883 and took less than a century to become the inadvertent centerpiece of a strip mall.
Read more about Tullahassee Creek Indian Cemetery in an exclusive Weird Oklahoma preview.
---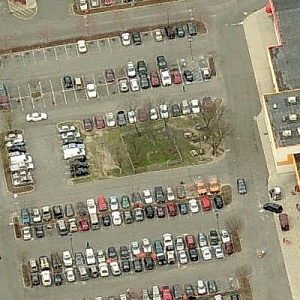 Burr Cemetery – Commack, New York
According to the Huntington (New York) Historical Society, the Burr family arrived from England in 1630, later establishing themselves on Long Island, where they purchased 166 acres of land and proceeded to become prominent, wealthy American citizens.
The Burr family farm once encompassed an area of Commack, New York, near the modern-day intersection of Lakefield Road and the Jericho Turnpike, where they, at some point, established a cemetery, which appears to have been used up until 1878.
During World War I, the land was turned into Brindley Field, a 90-acre training facility for pilots. The airfield was deactivated in 1919. Then, around the 1950s, Modell's Sporting Goods built themselves a franchise nearby, swallowing up the cemetery in the process. Today, the cemetery lies just outside the doors of the local Home Depot.
---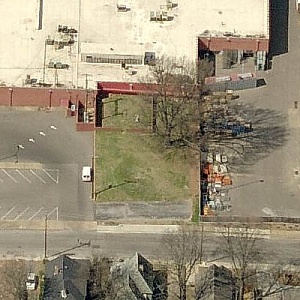 Bettis Family Cemetery – Memphis, Tennessee
In 1819, Tillman Bettis and his family settled in what would later become Memphis, the second family to do so after the Chickasaw Nation ceded the land to the U.S. government. In 1826, his wife, Sally Carr Bettis, died during childbirth and was buried in what is believed to be the first marked grave in Shelby County.
In the decades that followed, modern Memphis swallowed up the Bettis homestead, eventually cramming the family cemetery amid the Center City Shopping Center. The graveyard was enclosed by a three-foot-tall wall and, according to the Memphis Business Journal, became filled with graffiti, drug paraphernalia "and worse."
Locals looked into the possibility of moving the graves, but doing so would have cost at least $35,000, and nobody had the money. So, when The Home Depot bought the property in 2002 — that's right, another cemetery next to a Home Depot — they vowed to clean up the cemetery and look after it once they built their new outlet. The cemetery now lies right behind the new Home Depot, butted up against the neighboring Piggly Wiggly.
---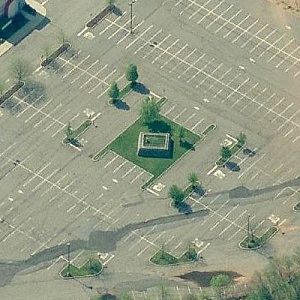 The Grave of Mary Ellis – New Brunswick, New Jersey
Not only is the grave of Mary Ellis embedded in a parking lot, it's also the focus of a terrific legend. Mary, who came to New Brunswick in the 1790s to live with her sister, fell in love with a sea captain who promised to marry her once he returned from his next voyage. The captain then left Mary his horse and sailed off down the Raritan River.
Every day, Mary rode her lover's steed down to the river, hoping to meet him at the water's edge. For years, she gazed at the river, waiting for his return. In 1813, she purchased a plot of land overlooking the river, where she maintained her vigil until her death in 1826. And there she was buried, forever waiting for her captain.
Meanwhile, commercialism swept through, establishing a series of retail businesses, including a popular flea market, all sharing space with Mary. Today, Mary's grave is entrenched in the parking lot of a Lowes movie theater.
In 2004, the property was purchased by a retail developer who plans to renovate the location with new retail space, parking garages and hundreds of luxury condos. He hopes to move Mary's grave out of his way and closer to the river.
Read more about Mary Ellis's grave from my friends at Weird N.J.
---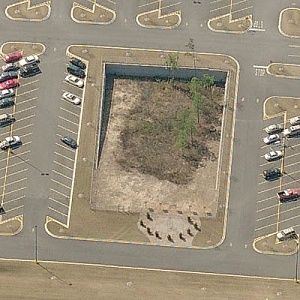 Mystery Cemetery – Warner Robins, Georgia
Little information exists regarding this cemetery. Long forgotten, it was discovered in 2005 listed on some old plats by an archaeologist who was researching the site for a commercial developer.
The cemetery, abandoned and unmarked, sat right where Wal-Mart had planned to erect a brand new Supercenter. But, since state law didn't prohibit developing around cemeteries, so long as the graves are preserved, they just worked around it. A retaining wall was installed, the land was regraded and the surrounding surface was paved and striped.
---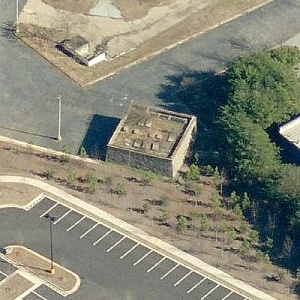 Crowley Mausoleum – Decatur, Georgia
According to a member of the RootsWeb community, James Crowley received about 500 acres of land in the Georgia Land Lottery of 1822, where he built a home for himself and his family. When he died in 1828, he was buried on a hill just north of his home where he was later joined by six other adults and four children.
The homestead changed hands a number of times over the years and was eventually leased to a developer in the 1960s, who built a mall on the property. Unfortunately, to make a parking lot possible, the hill on which the cemetery stood had to be leveled, so the developer made the unusual decision to leave the graves at their original elevation, build a wall around them about 20 feet high and remove the surrounding earth. As a result, the only way to access the cemetery is through a locked gate and up a stairway. No one's sure who now has the keys.
The mall closed in 2001 and was demolished a few years later to make way for another Wal-Mart and a few satellite stores. Developers kindly added a grassy buffer around the mausoleum, but it still lies in the middle of a parking lot, right behind a NAPA Auto Parts.
See more photos of the Crowley Mausoleum at Karen Dean's site.